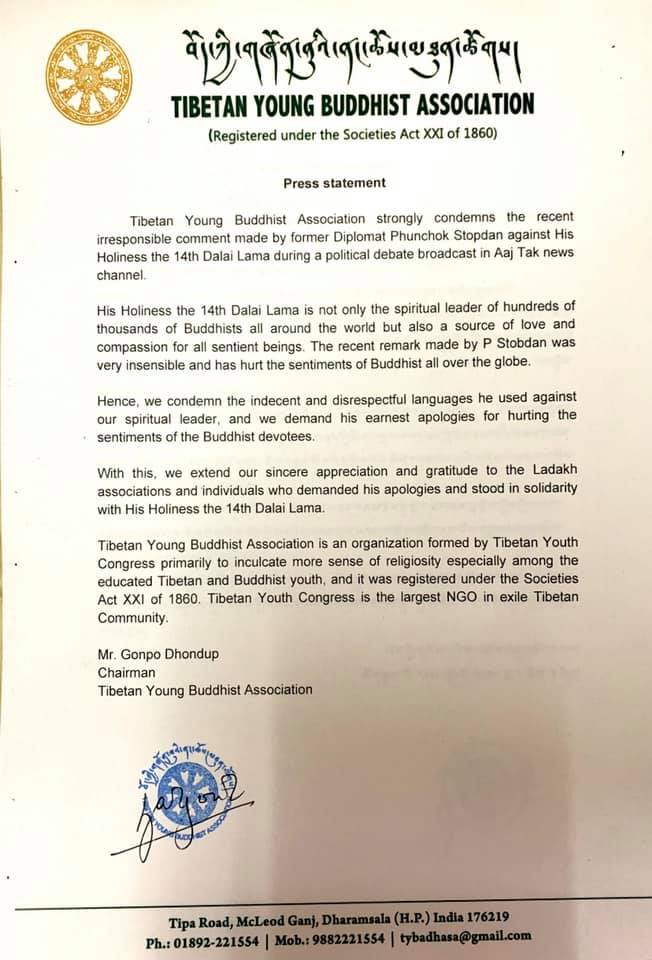 Press statement
Tibetan Young Buddhist Association strongly condemns the recent irresponsible comment made by former Diplomat Phunchok Stopdan against His Holiness the 14th Dalai Lama during a political debate broadcast in Aaj Tak news channel.
His Holiness the 14th Dalai Lama is not only the spiritual leader of hundreds of thousands of Buddhists all around the world but also a source of love and compassion for all sentient beings. The recent remark made by P Stobdan was very insensible and has hurt the sentiments of Buddhist all over the globe.
Hence, we condemn the indecent and disrespectful languages he used against our spiritual leader, and we demand his earnest apologies for hurting the sentiments of the Buddhist devotees.
With this, we extend our sincere appreciation and gratitude to the Ladakh associations and individuals who demanded his apologies and stood in solidarity with His Holiness the 14th Dalai Lama.
Tibetan Young Buddhist Association is an organization formed by Tibetan Youth Congress primarily to inculcate more sense of religiosity especially among the educated Tibetan and Buddhist youth, and it was registered under the Societies Act XXI of 1860. Tibetan Youth Congress is the largest NGO in exile Tibetan Community.
Mr. Gonpo Dhondup
Chairman
Tibetan Young Buddhist Association