On April 17th, 2023 Tibetan Youth Congress (TYC) in collaboration with student groups from Spiti, Kinnaur, and other Himalayan regions organized a large congregational peace rally from Mcleod Ganj to Dharamshala, Kacheri.  The primary purpose of the rally was to condemn the media for misleading the public and defaming His Holiness the 14th Dalai Lama.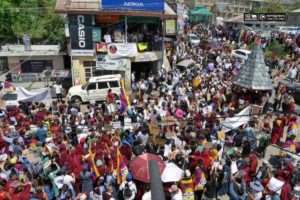 The rally garnered significant support from the local Indians and the followers of His Holiness the 14th Dalai Lama all around the world. The reason behind this widespread support was a false allegation distributed by the New Delhi Television News outlet, which had caused great distress and anguish within the Buddhist community, especially among Tibetans living both in Tibet and in the diaspora.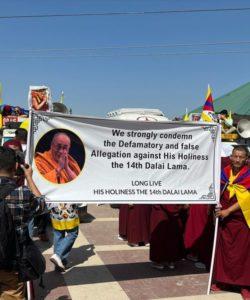 During the rally, TYC President Gonpo Dhudup, Shri Ajit Nehria Ji from the Indo-Tibet Friendship Association, Shri Omkar Ji, the mayor of Dharamshala, and a student representative from Spiti addressed the gathered public. Their speeches shed light on the defamatory deception against His Holiness the Dalai Lama by the news media, as well as the role of China in spreading fake news globally through their financial support.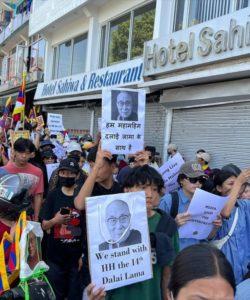 The participants expressed the collective outrage against the media for the false allegations. By highlighting the negative impact of such misinformation on the reputation of His Holiness the Dalai Lama, as well as its consequences for the Tibetan and Buddhist communities, the speakers aimed to mobilize public support and demand accountability from the media outlets involved.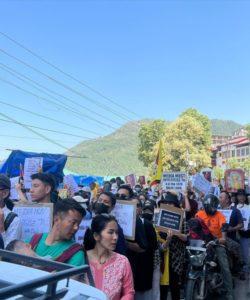 The rally provided an opportunity for the participants to stand united against the defamation and to assert their solidarity with His Holiness the Dalai Lama. Additionally, it shed light on the influence of external actors, such as China, in spreading false information and manipulating public opinion through financial means.
Overall, the congregational peace rally organized by the Tibetan Youth Congress and various Himalayan student groups sought to condemn the media's misleading actions and raise awareness about the defamatory deception against His Holiness the 14th Dalai Lama. It aimed to rally support, both locally and internationally, to counter the false allegations and uphold the reputation of His Holiness and the Tibetan community.