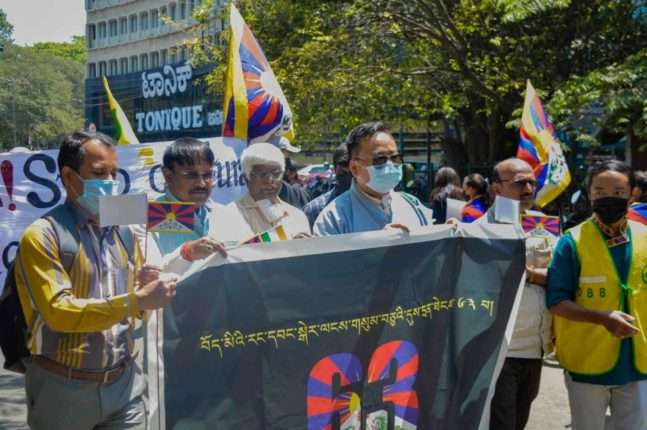 The Statement of the Tibetan Youth Congress on the 63rd National Uprising Day of Tibet
On this day of 10th March 2022, Tibetan people across the globe are commemorating the 63rd  anniversary of the Tibetan National Uprising Day. On this occasion, the Tibetan Youth Congress would like to take the opportunity to offer our deepest homage to the patriotic Tibetan men and women who've sacrificed their lives to restore Tibet's national sovereignty. We also want to pay our respects to the surviving family members and their relatives and the brave Tibetan men and women who continue to resist Chinese occupation.
Since the forceful invasion of Tibet in 1949, Tibetans from all walks of life have fought relentlessly but Tibet was brutally occupied by 1959. On this day of 10th March 1959, Tibetans from all three traditional regions rose to the defence of their historically defined sovereignty and a national leader with indomitable courage and a spirit of self-sacrifice, culminating in the famous Tibetan Uprising of 10th March 1959 with three famous slogans, "May His Holiness the Dalai Lama live for thousands of years!", "Tibet is an independent country!" and "China, Quit Tibet!".
Since then, Communist China deprived the Tibetan people of their basic rights and freedom and was subjected to strict surveillance. Because of such oppressive policies, Tibetans inside Tibet have resorted to measures like self-immolation to protest against China's illegal occupation of Tibet. Till now, 168 Tibetans have set themselves on fire. On 25th February 2022, a 25 years old Tibetan artist, Tsewang Norbu set himself on fire in front of the Potala Palace in Lhasa to protest against China.
Recently, when China hosted the 2022 Beijing Winter Olympics, heavy restrictions were imposed on Tibetans inside Tibet and showcased thousands of Chinese propaganda posters and paintings inside Tibet. Moreover, Tibetan Schools were shut down, there were bans on large religious gatherings, Nomads were resettled from their traditional homelands, and Statues of Buddha and Guru were destroyed. A renowned writer, Go Sherab Gyatso was arbitrarily imprisoned for 10 years for writing about Tibet. In short, the Chinese Communist Party has made living life like Hell in Tibet. Despite all these Gross Human Rights Violations in Tibet, Uyghurs, Taiwan, Hong Kong, and Southern Mongolia, the International Olympic Committee has turned a blind eye and let China host the 2022 Beijing Winter Olympics.
Today, on this occasion, Tibetan Youth Congress condemn CCP's repressive regime in Tibet and reaffirm our commitment to resist China and continue our fight for the independence of Tibet.
We'd also like to extend heartfelt appreciation to all the individuals and organizations who continue to contribute to the cause of Tibet in various ways during this difficult time. We also urge Tibetans living in exile and inside Tibet to remain united and steadfast in our struggle against the single opponent and ultimate goal. We must stand, speak and take responsibility for our movement.
Finally, we'd like to pray for the long life of our leader His Holiness the Dalai Lama, and an early reunion of all the Tibetan people in an independent Tibet.
Bhod Gyalo! Bhod Rangzen Gyalo!
On 10th March 2022, Tibetans all over the world commemorated the 63rd National Uprising Day. The Office of the Central Executive Committee, TYC along with the Regional Chapters has led the processions over various cities and States.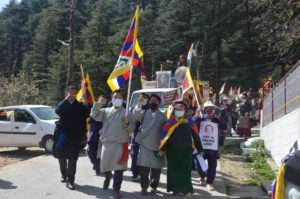 In Dharamshala, the hub of the Tibetan community, the Tibetan Youth Congress along with four major NGOs organized a protest march from Tsuglakhang, Temple Road to Kachari, Dharamshala to commemorate 63rd Tibetan National Uprising Day. On reaching the Kachari Police ground, the gathering was addressed by the TYC Organizational Secretary Mr. Penpa Tsering, and the representatives of the Tibetan Women's Association (TWA), National Democratic Party of Tibet (NDPT), Gu Chu Sum Movement of Tibet, and Students for a Free Tibet (STF) India.
In the National Capital of India, around 70 Tibetan Youth took part in the TYC-led peaceful demonstration at the Chinese Embassy in New Delhi on 10th March 2022. All 70 activists along with TYC General Secretary, Mr. Sonam Tsering, TYC Information Secretary Ms. Lhamo, and TYC Researcher Ms. Tenzin Norzom were arrested after more than five minutes of fierce demonstration. All the three organizers were charged under section 144.
They were detained at the Mandir Marg Police Station till the evening. All the activists were warmly welcomed with white scarves by the representatives of Tibetan NGOs in Majnu Ka Tilla. The event ended with a candlelight vigil around Majnu Ka Tilla.
Pic 54, 55, 56, 57: 10 March Protest campaign outside the Chinese Embassy in New Delhi.
In Bangalore, TYC along with the Regional Tibetan Youth Congress Bangalore organized a Peace Rally from MG Road to Press Club, Bangalore. After that, TYC President Mr. Gonpo Dhundup along with TYC Cultural Secretary Mr. Yeshi Chomphel held a press briefing at the Bangalore Press Club. This was attended by Mr. Niranjan Umapathy, President of the Indo-Tibet Friendship Association (ITFA) South Zone, Mr. Raja Shekar, President of Bharat Tibbat Sanyog Manch (BTSM) Bangalore, and Bharath Ramanujan Kumandur, BJP Bangalore Representative. After the briefing, the guests reaffirmed their commitment to support the cause of Tibet. The event was concluded with a candlelight vigil in Bangalore Tibetan Youth Hostel. South India Chief Representative Officer (CRO) along with the staff and students took part in the candlelight vigil.