On February 13, 2023, the Tibetan Youth Congress (TYC) and the Centre for Himalayan Asian Studies and Engagement organized an international webinar to commemorate the 110th anniversary of the 13th Dalai Lama's proclamation reiterating Tibet's independence. The webinar aimed to shed light on this significant historical event and its ongoing relevance.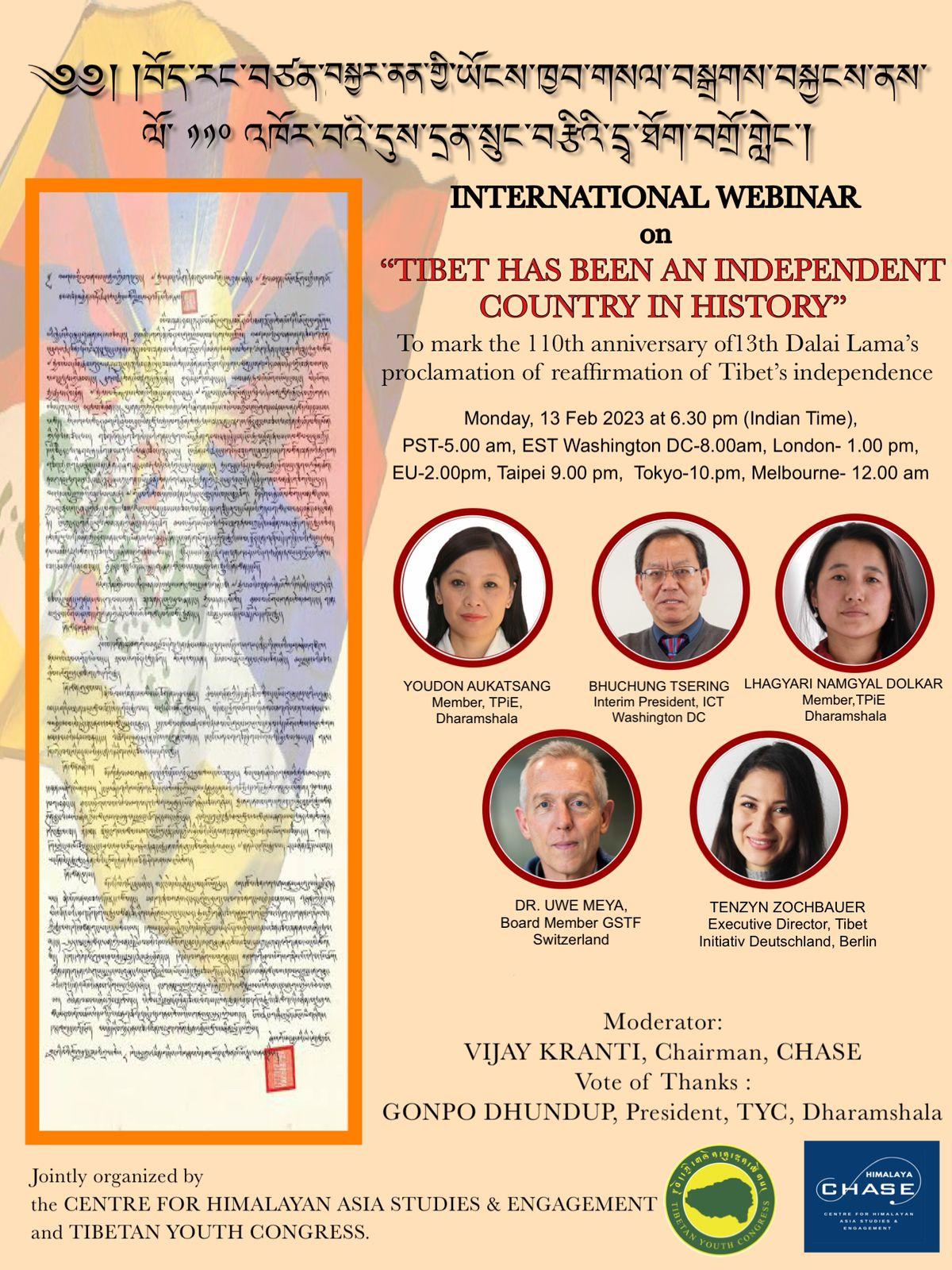 The webinar featured a panel of distinguished speakers who provided insights and expertise on various aspects related to Tibet's independence and the current situation. The invited speakers included:
Lhadon Tethong: Director of Tibet Action Institute. Tethong's experience and knowledge in Tibet-related activism contributed to the discussions on advocating for Tibetan rights and freedom.
Lhagyari Namgyal Dolkar: Member of the Tibetan Parliament. Dolkar's presence enriched the discussions by providing perspectives from a legislative standpoint and representing the Tibetan community's interests.
Bhuchung Tsering: Interim President of the International Campaign for Tibet. Bhuchung la's expertise in advocacy work and international engagement added valuable insights to the discussions.
Dr. Uwe Meya: Board Member of the GSTF (Global Science and Technology Forum). Dr. Meya's participation provided insights into the academic and research aspects of Tibet's independence and its historical significance.
Tenzin Zockbeuer: Executive Director of Tibet Initiative Deutschland. Zockbeuer's involvement shed light on the efforts and initiatives undertaken by the Tibetan diaspora community in Germany.
The presence of these speakers allowed for a comprehensive and diverse exploration of His Holiness the 13th Dalai Lama's proclamation and its impact on Tibet's struggle for independence. The webinar provided a platform for sharing knowledge, fostering understanding, and generating meaningful discussions on the historical and contemporary aspects of Tibet's independence movement.