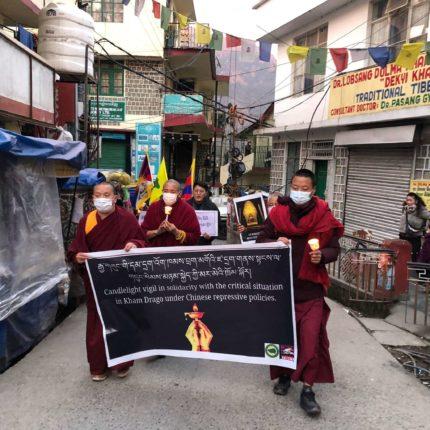 Tibetans and Tibet supporters held a candlelight vigil in Dharamsala to express solidarity with the critical situation in Kham Drago after the Chinese authorities destroyed a 99 feet high Buddha statue.
A 99-foot statue of Buddha, built with a financial contribution of 4,000,000 Yuan from local Tibetans in Drago, in the Kardze region in the traditional Tibetan province of Kham along with 45 huge prayer wheels erected near Drago Monastery were also destroyed by the Chinese authorities on 12th December 2021.
Regional Tibetan Youth Congress (RTYC), Dharamsala, and Student for a Free Tibet (SFT)-India has jointly organized the candlelight vigil to make a strong case of  China's "continued disregard and desecration of the religion of the Tibetan people, their culture and their custom."
Many local Tibetans joined the vigil to express their solidarity with the people of Drago. After the vigil, Mr. Sonam Tsering, General Secretary of TYC gave a talk highlighting the severe restrictions on basic human freedoms, arbitrary arrests, incommunicado detentions, torture, and unnatural deaths that have all become the traits of Chinese rule in Tibet. He also mentioned how China's policy of Sinicization has caused an assault on all the Tibetan national identities, most notably their language, religion, and culture, and that the Chinese government accelerated policies that reduce Tibetans as a proportion of the population and undermine their cultural and religious identity by 2020.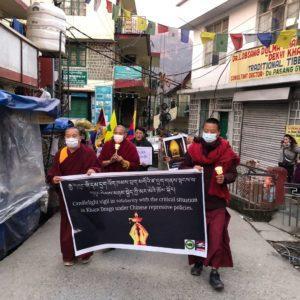 He concluded by calling on the governments around the world for strong, collective, and immediate action to send a clear message to China and boycott the Beijing winter Olympic 2022 games.