His Slogans: Long live His Holiness the Dalai Lama and Kyabje Kirti Rinpoche
Name: Kalsang Kyab
Age: 24
Sex: Male
Profession: Nomad
Date of Self-immolation: 27 November 2012 at around 6:30 pm (local time)
Location: Outside the People's Government building in Changtsa Town, Dzoge, Ngaba, Amdo
Current whereabouts/wellbeing: Deceased
Twenty four-year-old Kalsang Kyab set himself ablaze at around 6:30 pm on 27 November in front of a Chinese government office in Kangtsa town. Kalsang reportedly doused himself in kerosene and then walked towards the local government offices raising slogans for the long life of HH the Dalai Lama and the exiled head of Kirti Monastery. Upon reaching the office building, he set himself ablaze and continued to shout slogans. Kalsang passed away at the site of his protest.
Subsequently, local Tibetans carried his charred body to his native village, Dowa Mege. Later that night, at around 10 pm, more than 40 monks from Taktsang Lhamo Kirti Monastery came to his house and performed prayers in his honour.
Kalsang had reportedly left his nomadic pastures the day before his protest and visited his native village. The next day, early in the morning, he came to Kangtsa town which is approximately 3kms away to carry out his action.
Following his self-immolation, a large contingent of Chinese security personnel arrived in Kangtsa town and cordoned off the area. Sources from the region stated that around 200 Armed Police and Public Security officers were deployed in Goe Shoka area, where Kalsang lived, and an Armed Police truck was stationed on the mountaintop overlooking the village.
Internet services in the area have also been suspended following the self-immolation — a move regularly employed by the Chinese authorities to control information being relayed overseas.
On 28 November over a thousand local people — mainly from Goe Shoka came to pay their last respects and express solidarity with his family members. Kalsang is survived by his parents and six siblings. Described as gentle-natured and a man of few words, Kalsang never attended school.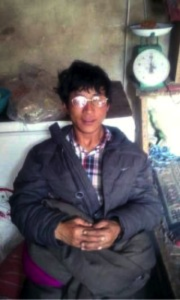 His last words: My dear parents, my sister, relative and everyone else, please take care. I am setting myself on fire for the welfare of Tibet, the land of snows. May His Holiness the Dalai Lama live long! I earnestly hope that the sun of happiness will shine for Tibet.
(Translated from Tibetan by Bhuchung D. Sonam)