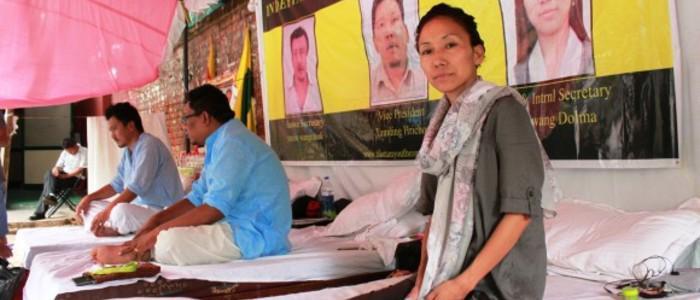 Delhi Sept 30: At 11:21pm last night TYC Hunger Strike Tsewang Dolma was hospitalized and escorted by Police to RML Hospital in Delhi. While we pray for a quick recovery for her we are outraged that the UN has still not responded to the cries of the Tibetan people.
Tibetan Youth Congress "Indefinite Hunger Strike" for Tibet campaign started on Sept 10 at Jantar Mantar in Delhi and today is the 22nd day of this campaign. Three TYC Executives Tamdin Hrichoe, Tenzin Wangchuk and Tsewang Dolma are participating in this hunger strike. As Tsewang Dolma is being treated at the hospital, the hunger strike continues with Tamdin Hrichoe and Tenzin Wangchuk.
In response to China's propaganda and in order to create awareness about the critical situation in Tibet; to support the demands and aspirations of the self-immolators; and to show solidarity with Tibetans inside Tibet, the Tibetan Youth Congress has initiated this "Indefinite Hunger Strike". This campaign is aimed at the United Nations who we believe must act immediately and hold China responsible for their actions in Tibet.
Our demands to the United Nations are as follows:
1.Urge the United Nations member states to raise the issue of Tibet at its General Assembly and Human Rights Council Session
2.Urge China to address the demands of the Self Immolations in Tibet
3.Urge China to give evidence that the 11th Panchen Lama Gendun Choekyi Nyima is alive
4.Send a fact-finding UN delegation to assess the current critical situation in Tibet
5.Urge China to release all political prisoners
Tibetan Youth Congress is the largest Tibetan youth organization (NGO) in exile. Through non-violence campaigns, we vow to keep the struggle for Tibet alive until the issue is resolved.
####