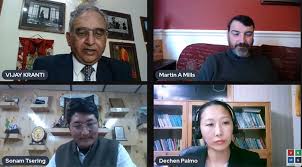 DAMAGE TO TIBET'S ENVIRONMENT IS DANGEROUS FOR ENTIRE HUMANITY
-Vijay Kranti and Anjali Mishra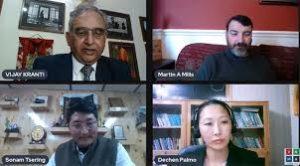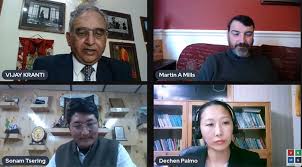 New Delhi
27 November 2021: China's desperation to dominate and exploit Tibet has gone too far as it has been carrying out multiple projects which have seriously impacted not only Tibetan plateau's fragile ecology but has also severely exposed the whole of Asia to imminent environmental disaster. The Tibetan Plateau, living under forcible occupation of China since 1951, is world's highest and most extensive alpine area which has come to be known as the 'Third Pole' for being the home to the largest bulk of fresh water snow and ice after the North and South poles. Experts, speaking at the webinar "CLIMATE CHANGES ON THE THIRD POLE – TIBET" were of the opinion that China must stop its on-going process of mindless exploitation of Tibetan rivers, minerals, jungles and other natural resources and the world must confront China to save the rest of Asia from imminent ecological collapse.
This webinar was jointly organized by the Centre for Himalayan Asia Studies and Engagement (CHASE) and the Tibetan Youth Congress (TYC) from New Delhi in the light of the international summit on environment 'COP-26' which concluded recently in Glasgow. Two main experts who made their presentations were Dr. Martin Mills, the Director of the Scottish Centre for Himalayan Research at the University of Aberdeen in UK and Ms. Dechen Palmo who is an expert on Tibetan environment. Dr. Mills has been the coordinator of the three yearlong 'Scottish Parliamentary Third Pole Climate Change Inquiry' which concluded early this year and published its report under title "Climate Change on the Third Pole: Causes, Processes and Consequences". Ms. Dechen is associated with the Tibet Policy Institute, a leading think tank on Tibet and China at Dharamshala in India. She was a member of the team which presented the case of Tibetan environment at COP-26. The webinar was moderated by Vijay Kranti, a senior journalist, Tibetologist and Chairman of CHASE. The webinar was an effort to understand the extent of the damage that has happened in Tibet and what more can happen in near future.
Dr. Mills pointed out that although man made situations have impacted the ecology of entire world, but China's actions in Tibet and exploitation of its natural resources have taken very serious dimensions. Tibet has become a climate change hotspot, with a warming pace double of that of the rest of world. Tibet being the origin of Asia's eight major rivers is responsible for feeding water to people of about a dozen countries. These waters directly impact the lives of 1.9 billion people and indirectly of nearly 4 billion which is half of world population, he said.
He said that in addition to its snow and rivers, a substantial part of Tibet is permafrost which has grasslands on the top but the lower layers of the land hold huge amounts of frozen water. With fast increase in the surface temperature in these parts of Tibet the underground ice is melting and has shown its consequences in the form of land sinking and massive landslides over past many years. This will finally result into dying of grasslands on the top and desertification of a big part of Tibet. Giving example of the Gormo-Lhasa railways, an expensive and a major show piece project of China in Tibet, Dr. Mills said that a good part of this railway line is built on the permafrost. Increasing temperatures in Tibet is soon going to result into serious damage to this railway line and this project might become infeasible in a few years,
Dr. Mills referred to already on-going damage to the environment in China, other countries of Asia and the rest of world which have impacted Tibet's ecology. China itself is a major producer of greenhouse gases. But mindless and aggressive mining, deforestation and urbanization in Tibet are making it worse for this already fragile plateau, he added.
Ms Dechen Palmo pointed out that Tibet, with its area nearly equal to entire Western Europe, has serious consequences for entire Asia and, to a good extent to the whole world because of its fragile ecology. Hence it will be suicidal if the world governments leave China unchallenged over its reckless exploitation of Tibet.  She called upon the international community to take the fast degradation of ecology in Tibet seriously because it has already started impacting the life of billions of citizens outside Tibet and China.
Referring to Tibet as the 'Water Tower of Asia' she pointed out that Tibet is home to more than 46,000 glaciers which keep releasing fresh water slowly across the year to about a dozen countries of Asia. But in its mindless attempt to grab most of this water for its own use, the Chinese government has constructed thousands of small and big dams on these rivers. As a result it is impacting the natural flow of water to all riparian countries like India, Bangladesh, Nepal, Myanmar, Thailand, Cambodia and Laos etc. Moreover, with the help of massive hydro power plants on these dams China is attempting to pump out and steal water of these rivers which actually belongs to the downstream riparian countries, she said.
Dechen referred to massive landslides of 2017 and 2018 in the Yarlung Tangpo (known as 'Brahmaputra' in India) and said that by building cascades of dams over many Tibetan rivers China is increasing danger to already fragile Himalayan mountains.
Vijay Kranti, referred to China's strategy of using Tibetan rivers as a 'water bomb' against India. He gave examples of three events in 2000 and 2005 when China allowed water bodies, caused by landslides in the Tsangpo River in Tibet across border in Arunachal Pradesh and Himachal Pradesh, to accumulate to dangerous proportions. Then it exploded the banks on the Indian side at a time of its own choosing. The floods caused massive damage to roads, power system and infrastructure deep in these two states. Despite India's repeated requests, China refused to share information on accumulating water and its release.
In her concluding remarks Prof. Aayushi Ketkar, an expert on international and defence matters at the Special Centre for National Security Studies at JNU, pointed out at the hypocrisy of Chinese President Xi Jinping. She said that on the one hand he claims to be serious about environment in Tibet, but on the other hand he did not have the courage to face questions of the world community and hence skipped attending the world summit at COP-26.
Mr Sonam Tsering, General Secretary of TYC presented vote of thanks as co-organizer of the webinar. TYC is the largest and most influential socio-political organization among the Tibetan Diaspora. It has functioned as the nursery of Tibet's leadership since its inception.