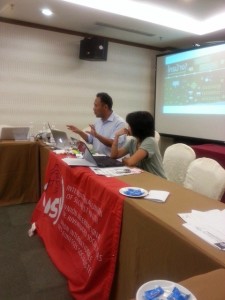 Kuala Lampur Dec 22 – Political and Youth organization members of International Union of Socialist Youth (IUSY) Asia Pacific committee gathered in Kuala Lampur Malaysia for a three-day conference from Dec 18-21. This meeting was hosted by Democratic Action Party Socialist Youth (Malaysia), and attended by Young Progressives for Social Democracy (Thailand), Social Democratic Party (Japan), Student Council Alliance for Philippines, Akbayan Youth (Philippines), Nepali Students Union (Nepal), Voters Party (India), Pergarakan Indonesia (Indonesia) and Young Labor Party (New Zealand). Tenzing Jigme President of Tibetan Youth Congress, the largest pro independence Tibetan NGO in exile is attending this three-day conference. The topic for this year's conference is 'Green Governance: the urgent task of climate change mitigation and adaptation'.
Speaking at the conference, Jigme talked about the environmental destruction inside Tibet and its affects on South East Asian nations, the current critical situation inside the Tibet, and the self-immolations. A resolution to stand in solidarity with the self-immolators and condemn China's illegal occupation of Tibet was unanimously adopted at the Congress. The committee also passed resolutions showing solidarity with the pro-democracy movement in Hong Kong and condemned the recent terrorist act in Pakistan where over 145 innocent people including children's lives were lost.  "I think it is important to support peace and independence for Tibetan people at this crucial point in time", says Japanese delegate Junya Arita.
TYC President Jigme stated
that he views this moment as an opportunity to speak for Tibet and to network and reach out to build a coalition of like minded groups and governments who have issues with China and see how we can work together to hold them accountable for their actions in the region. "Many of these south east nations are constantly 'harassed' and 'bullied' by China. It is time we all stand together and put a stop to that," he added.
IUSY was founded in 1907 and is the largest international political youth organization in the world with about 150 member organizations from more than 100 countries fighting for democratic socialism, freedom, human rights, equality, democracy and international solidarity.