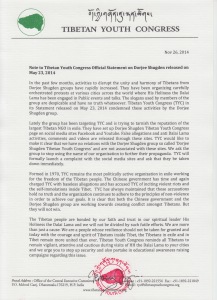 In the past few months, activities to disrupt the unity and harmony of Tibetans from Dorjee Shugden groups have rapidly increased. They have been organizing carefully orchestrated protests at various cities across the world where His Holiness the Dalai Lama has been engaged in Public events and talks. The slogans used by members of the group are despicable and have no truth whatsoever. Tibetan Youth Congress (TYC) in its Statement released on May 23, 2014 condemned these activities by the Dorjee Shugden group.
Lately the group has been targeting TYC and is trying to tarnish the reputation of the largest Tibetan NGO in exile. They have set up Dorjee Shugden Tibetan Youth Congress page on social media sites Facebook and Youtube. False allegations and anti Dalai Lama activities, comments and videos are released through these sites. TYC would like to make it clear that we have no relations with the Dorjee Shugden group so called 'Dorjee Shugden Tibetan Youth Congress' and are not associated with these sites. We ask the group to stop using the name of our organization to further their propaganda.  TYC will formally launch a complaint with the social media sites and ask that they be taken down immediately.
Formed in 1970, TYC remains the most politically active organization in exile working for the freedom of the Tibetan people. The Chinese government has time and again charged TYC with baseless allegations and has accused TYC of inciting violent riots and the self-immolations inside Tibet.  TYC has always maintained that those accusations hold no truth and the organization continues to adhere to the principles of non-violence in order to achieve our goals. It is clear that both the Chinese government and the Dorjee Shugden group are working towards creating conflict amongst Tibetans. But they will not win.
The Tibetan people are bonded by our faith and trust in our spiritual leader His Holiness the Dalai Lama and we will not be divided by such futile efforts. We are more than just a cause. We are a people whose resilience should not be taken for granted and today with the courage and spirit of Tibetans inside Tibet, the Tibetans in exile and in Tibet remain more united than ever. Tibetan Youth Congress reminds all Tibetans to remain vigilant, attentive and cautious during visits of HH the Dalai Lama to your cities and we urge you to step up security and also partake in educational awareness raising campaigns regarding this issue.