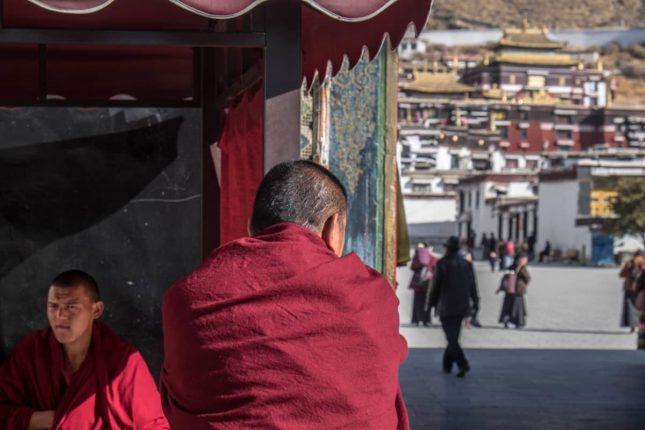 Highlights on Tibet
Human Rights Watch, an American-based organization, released its highly regarded annual human rights report on 12th January 2023. The report, covering over 100 countries, highlights Tibet's position as the second least-free country, alongside South Sudan and Syria, based on the previous year's Freedom House Global Report. The findings underscore the Chinese government's alleged abysmal human rights violations, maltreatment, and systematic eradication of Tibetan culture, Buddhism, and the Tibetan language, which has historically served as the medium of education for Tibetan school students.
In 33rd annual global human rights report, Tibet, unlike any time before, got larger space to hue her infliction, both potent and latent under the Chinese fragrant system.  Human Rights Watch, this year, did not let economic interest outweigh human rights; and they courageously brought out Tibetan issue more practical, covering some urgent issues: environmental degradation, the primary education system in Chinese-designed boarding schools; and restrictions on religious activities. The report also emerged of the arrest and sentencing of Tibetan cultural figures, notably Go Sherab Gyatso and the popular young Tibetan pop singer Tswang Norbu attempted self-immolation in Lhasa, the capital city of Tibet in 2022.
"Holistic View of Tibetan Human Rights Challenges in Human Rights Watch's Annual Report"
In its 33rd annual global human rights report, Human Rights Watch shines a spotlight on Tibet, providing a comprehensive examination of the multifaceted challenges faced by the region under the Chinese governance. This year, the report demonstrates a commendable commitment to prioritizing human rights over economic interests, bringing crucial Tibetan issues to the forefront. The report addresses pressing concerns such as environmental degradation, shortcomings in the Chinese-designed boarding school system for primary education, and restrictions on religious activities. It also highlights the arrests and sentencing of Tibetan cultural figures, including Go Sherab Gyatso, as well as the attempted self-immolation of popular young Tibetan pop singer Tswang Norbu in Lhasa, the capital city of Tibet, during 2022.
"U.S. Department of State Launches Global Political Prisoner Campaign, Urging for the Release of 18 Prominent Political Prisoners"
On January 10, 2023, the U.S. Department of State unveiled its "Without Just Cause Political Prisoner Campaign," urging the international community to take decisive action to secure the freedom of 18 prominent political prisoners. Among those highlighted are Go Sherab Gyatso, a Tibetan religious philosopher, and Mohamed El-Baqer, an Egyptian human rights lawyer, who have endured lengthy confinement under the Chinese government's prosecution. Uzra Zeya, the U.S. Special Coordinator for Tibetan Issues, called for the immediate release of these international political prisoners without any preconditions. Stressing the urgency, Zeya emphasized that countless political prisoners worldwide face torture, suppression of fundamental freedoms, and enforced disappearances, impacting both their families and nations. The campaign aims to address these injustices and advocate for the rights and freedom of political prisoners globally.
"International Campaign for Tibet Reports Alarming Impact of China's Policy Shift on COVID-19 in Tibet"
On January 19, 2023, the International Campaign for Tibet (ICT) released a comprehensive report detailing China's sudden abandonment of its "zero-COVID" policy and the dire consequences for elderly Tibetans in Tibet. The report draws on extensive research, including first-hand accounts from Japan and Brazil, as well as on-ground information from individual Tibetans.
According to ICT's findings, since the implementation of COVID-19 restrictions in Tibet on December 7, 2022, a worst-case scenario predicts that over 220,000 Tibetans aged 60 and above could lose their lives following the end of the zero-COVID policy. Furthermore, considering the current case fatality rate during the COVID surge, it is estimated that over 45,000 Tibetans aged 80 and older may face mortality.
It is important to note that these estimates represent the most severe outcome based on current levels of vaccination and immunity, as well as China's alleged mismanagement of the pandemic. However, without genuine transparency from the Chinese government, the true COVID death toll in Tibet remains uncertain.
The report highlights the urgent need for transparency and accountability from the Chinese government regarding their handling of the pandemic in Tibet. Efforts to mitigate the impact on vulnerable populations, particularly the elderly, are crucial to protect lives and ensure the well-being of Tibetan communities.
"Arrest of Tibetan Monk Rongwo Gangkar Raises Concerns over Intellectual Suppression"
Rongwo Gangkar, a 43-year-old Tibetan monk known for his deep appreciation of poetry and literature, was actively involved in book-related discussions and advocated for the celebration of the Dalai Lama's birthday just before his arrest. However, he was arrested by local Chinese authorities in early 2022 in the Malho Tibetan Autonomous Prefecture. Since his arrest, information regarding his whereabouts and well-being has been limited.
According to information compiled by Free Tibet.Org, released on January 21, 2023, Rongwo Gangkar's arrest is part of a larger pattern wherein Chinese authorities have specifically targeted Tibetan intellectuals and individuals who promote Tibet's language and culture. This alarming trend underscores the suppression of intellectual freedom and the stifling of Tibetan cultural expression.
The arrest of Rongwo Gangkar has raised concerns within the international community regarding the ongoing targeting of Tibetan intellectuals by Chinese authorities. It highlights the need for greater attention to the protection of human rights and freedom of expression in Tibet.
"Global Week of Action Highlights Concerns Over Thermo Fisher's Involvement in China's Surveillance and Attack on Tibetan Identity"
As part of the 'HANDS OFF TIBETANS' DNA' Global Week of Action, an expert panel hosted by the Internal Tibet Network on February 1, 2023, focused on Thermo Fisher's corporate responsibility and their alleged involvement in China's latest assault on Tibetan identity and extensive surveillance measures. The event garnered support from 120 NGOs worldwide, as well as coalitions including the Tibetan Youth Congress, Tibetan Women's Association, National Democratic Party of Tibet, and Students for a Free Tibet at Mcload Square in Dharamshala.
On February 3, 2023, participants united their voices through theatrical performances and signature campaigns to protest China's mass DNA collection of Tibetans, including children as young as five. The event aimed to raise awareness and express concerns over the infringement of Tibetan rights and the potential misuse of genetic data for surveillance purposes.
The Global Week of Action serves as a platform for various organizations and individuals to come together in solidarity, advocating for the protection of unique identity, human rights, and the preservation of cultural heritage in the face of mounting challenges caused by the Chinese Communist government's repressive policies.
"UN Receives Damning Report on China's Colonial Boarding Schools in Tibet"
A comprehensive report exposing China's extensive network of colonial boarding schools in Tibet, which garnered significant social media coverage upon its release in 2021, has reached the United Nations table on February 7, 2023. The report provides in-depth research, shedding light on the alarming situation of over 900,000 Tibetan children being forcibly enrolled in state-run boarding schools.
The report further condemns the emotional and psychological distress experienced by young Tibetan children in these boarding schools, emphasizing the unacceptable indoctrination and the heavy-handed torture inflicted by the forced separation of approximately 1 million Tibetan children from their families.
The findings presented in the report have ignited global concerns over the welfare and rights of Tibetan children, calling for urgent attention and action from the international community to address the severe consequences of this system.
"110th Anniversary Celebration of Tibet's Independence Day Marked with International Webinar"
On February 13, 2023, Tibetans around the world commemorated the 110th anniversary of Tibet's Independence Day, a historically significant event in Tibet's political history. The 13th Dalai Lama's resolute declaration of Tibetan independence on the same day in 1913 resonates deeply within the hearts of every Tibetan.
In recognition of this momentous occasion, the Tibetan Youth Congress along with the Centre for Himalayan Asia Studies and Engagement organized an international webinar titled "Tibetan has been an Independent Country in History." The webinar featured esteemed keynote speakers including Bhuchung Tsering, Interim President of the International Campaign for Tibet; Dr. Uwe Meya, Board Member of Gesellschaft Scheweiz Tibetische Freundcha; Tenzin Zockeur, Executive Director of Tibet Initiative Deuschland, Berlin; and Tibetan parliamentarian Youdon Aukatsang dropped in her perspectives during the event.
The webinar provided a platform for insightful discussions and reflections on Tibet's historical independence, reaffirming the Tibetan Youth Congress's unwavering commitment to restore Tibet's rightful independence.
"Tibet Watch and Free Tibet Organization Expose Human Rights Violations in Drago County"
Tibet Watch, in collaboration with the Free Tibet Organization, held a press conference at Norbu House's auditorium hall on February 9, 2023, to shed light on the extensive human rights violations, environmental exploitation, and distressing desecration occurring in Drago County, Tibet, between 2012 and 2022. The conference presented compelling evidence and a comprehensive report that had been previously released in the United Kingdom Parliament earlier in 2023, gaining significant news coverage and international attention. The report drew on individual experiences, testimonial documents, and satellite images to provide a nuanced understanding of the situation.
During the press conference, an exiled Tibetan monk from Drago County shared his recollections, stating that the escalating repression imposed by the Chinese authorities in Kham Drago, as with other areas in Tibet, aims to eradicate Tibetan identity, culture, influential Tibetans, and Tibetan language and education centers.
The press conference served as a platform to bring attention to the plight of the Tibetan people in Drago County and to advocate for the protection of their human rights, preservation of their culture, and the restoration of their freedoms.
"Chinese Government Initiates Massive Railway Construction Project in Tibet"
On February 9, 2023, Tibet Times reported that the Chinese government has commenced a new railway construction project in Tibet, aiming to establish a comprehensive railway network connecting the Tibetan plateau with China. The ambitious project comprises 10 railway constructions and is projected to commence operations around 2035.
The planned railway lines strategically target crucial areas within Lhasa, the capital city of Tibet, including Nagri, Shegatse, Lhokar, and Nytri. In a report released by the Central Tibetan Administration in August 2001, it highlighted the environmental concerns associated with China's Railway Project. The report emphasized that the Railway Project Committee had allocated an estimated 100 billion yuan (US$12.1 billion) for the construction of large and medium-sized railways.
Critics express deep concerns over the potential environmental impact of these railways, including the degradation of permafrost, destruction of the ecosystem, and damage to the habitats of wildlife and river systems. The extensive construction and operation of the railways raise significant ecological and environmental challenges in the region.
"G20 Summit in New Delhi Marred by Tibetan Activist Protests"
Tibetan Youth Congress, Students for a Free Tibet, and National Democratic Party of Tibet activist staged a protest targeting Chinese Foreign Minister Qing Gang. On February 27, 2023, prior to Qing Gang's arrival at the Chinese Embassy in New Delhi, our protesters confronted him, displaying banner posters and demanding his departure with slogans like "Qing Gang, Go Back" and "G20 Protect Tibetan Children".
Despite their peaceful intentions, the protesters were met with opposition from Indian police constables who intervened, resulting in scuffles and the confiscation of torn banner posters. The activists' attempts to raise awareness about the Tibetan cause and advocate for the protection of Tibetan children were silenced during the protest and detained for the rest of the day, and later released.
"Tibetan National Uprising Day Marked by Global Demonstrations and Detentions"
On March 10, 2023, Tibetans worldwide came together to commemorate the 64th anniversary of Tibetan National Uprising Day. In Dharamshala, a significant gathering of Tibetans from various states in India and overseas congregated to express their grievances against China's policies. Five NGOs organized a nationalistic peace march denouncing China's practices, including the mass collection of Tibetan DNA samples, the sinicization of Tibetan culture, the implementation of massive surveillance systems, the existence of colonial Chinese boarding schools, and the arbitrary imprisonment of Tibetan intellectuals.
The Tibetan community, both within India and abroad, united in peaceful demonstrations, petition campaigns, and street protests to draw attention to the ongoing challenges faced by Tibetans under Chinese rule. Despite the peaceful nature of the protests, Delhi police intervened and detained all the TYC activist.
The Facebook livestream video of the protest receiving more than 11 million views and being shared by fourteen thousand Facebook users suggests that the protest event was successful in reaching a large audience and generating engagement on social media. This level of viewership and sharing indicates that the protest was able to capture people's attention and generate interest in the advocacy campaign for freedom.
In 2023 again, Freedom House testified Tibet of a zero-free country from the entire worldwide countries and it has remained in the same category as it was in the last year 2022.  Tibet is ruled by the Chinese Communist Party (CCP) government based on its dictatorship system. The residents of both Han Chinese and Tibetan ethnicity are denied fundamental rights, but the authorities are especially rigorous in suppressing any signs of dissent among Tibetans, including manifestations of Tibetan religious beliefs and cultural identity and language.