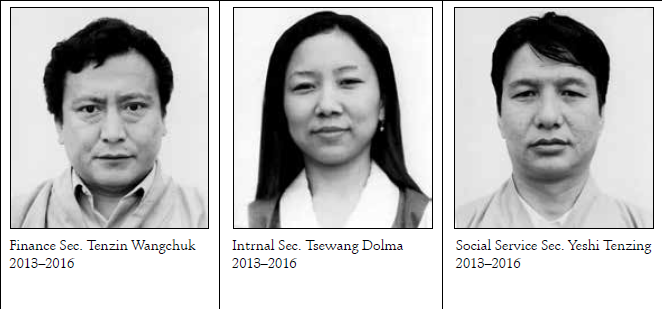 Tenzing Jigme – President (president@tibetanyouthcongress.org)

Educational Background

School – St. Joseph's School North Point Darjeeling India

High School – Baldwins Methodist College Bangalore India

College – University of Colorado, Denver

Professional Background

1999-2002 President Students for a Free Tibet University of Colorado, Denver

2002-2006 Executive Director Colorado Friends of Tibet

2006-2007 President Tibetan Association of Colorado

2009-2011 Vice President Regional Tibetan Youth Congress Minnesota

2011-2013 President Regional Tibetan Youth Congress Minnesota
Tamding Hrichoe – Vice President (vp@tibetanyouthcongress.org)

Education Background

Lekshadh Tsel Primary School Pokhara, Nepal

Namgyal High School Kathmandu, Nepal

Professional Background

2007-2010 – Group leader of Lodrik Jampaling, Pokhara, Nepal

2008-2010 – General Secretary Regional Tibetan Youth Congress, Jampaling, Pokhara, Nepal

2011-2013 – President Regional Tibetan Youth Congress, Jampaling, Pokhara, Nepal

Former Sitting member of Tibetan Local Assembly – Lodrik

First & second executive member Lodrik Welfare Fund
Tashi Lamsang – General Secretary (gensec@tibetanyouthcongress.org)

Educational Background

1987-1993 Primary school.

1993-2003 Monastic Study in Sera.

2003-2006 Tibetan Transit School.

2006-2007 Educational Support Trust.

Professional Background

2007-2008 Accountant, Rogpa Charitable Trust. Co-founder of Raise Tibetan Flags Campaign (RTFC). Founder of Talk Tibet.

2008-2010 Manager, Shideling Project.

2010-2011 Tibetan Language Teacher, Thosamling Institute. Member of Youth for Better Democracy.2011-2012 Educational Secretary, RTYC Dhasa.

2011-2012 Teacher, Ghu-Chu-Sum Movement of Tibet.

2012-2013 General Secretary, RTYC Dhasa. President of Norling United Tibetan Society.
Ngawang Lobsang – Joint Secretary  (js@tibetanyouthcongress.org)

Education background 

1993-1996 Completed Class twelve in CST Mundgod.

1998-2002 Sahra Collage for higher Tibetan Study.

2003-2011 General Secretary, RTYC Dhasa.
Nyima Choezom – Organizational Secretary (orgsec@tibetanyouthcongress.org)

Educational Background

She did her schooling from Namgyal Higher Secondary School, Kathmandu, Nepal. After that she graduated from Pokhara, Nepal.

Professional Background

2006-2010 Sponsorship Secretary at Namgyal Higher Secondary School, Kathmandu, Nepal

2011-2013 Project Officer/Sponsorship Coordinator/cashier at Lodrik Welfare Fund, Pokhara, Nepal

2011-2013 General Secretary Regional Tibetan Youth Congress, Paljorling, Pokhara, Nepal
Tsewang Dolma – International Relations and Information Secretary (international@tibetanyouthcongress.org)

Education Background

Namgyal Middle Boarding School,Kathmandu nepal

Namgyal High Secondary School, Kathmandu nepal

Professional Background

2004-2010 Active member for Drokpo Team, Kathmandu Nepal

2008-2013 Volunteer at Elderly Home, Jawalakhel Kathmandu Nepal

2010-2013 Active Member for National Human Rights Foundation of Nepal

2010-2013 Active Member for Amnesty International Nepal Section

2010-2013 President Regional Tibetan Youth Congress, Nepal
Tashi Dhondup Dhekhang – Culture Secretary (cultural@tibetanyouthcongress.org)

Education Background

CST Darjeeling

Darjeeling Government College

Professional Background

2006 – 2009 Secretary Regional Tibetan Freedom Movement, Darjeeling

2006 – 2008 Secretary Utsang Cholkha, Darjeeling

2007 – 2009 PRO Alumni Association CST Darjeeling

2009 – 2011 PRO Alumni Association CST Darjeeling

2010 – 2013 President Regional Tibetan Youth Congress, Darjeeling
Tenzin Wangchuk – Finance Secretary (finance@tibetanyouthcongress.org)

Education background

Mussoorie Homes, Uttarakhand

Professional background

1999 – 2002 Joint Secretary RTYC Nainital

2003 – 2004 Joint Secretary RTYC Rohini, Delhi

2004 – 2007 President RTYC Samyeling, Delhi

2010 – 2013 President RTYC Samyeling, Delhi

1999 – 2004 Information Secretary, World Bodh Warrior Palten, Gujarat

Yeshi Tenzing – Social Service Secretary (social@tibetanyouthcongress.org)

Professional background

2003 – 2010 President Regional Tibetan Youth Congress, Herbertpur, Uttarakhand