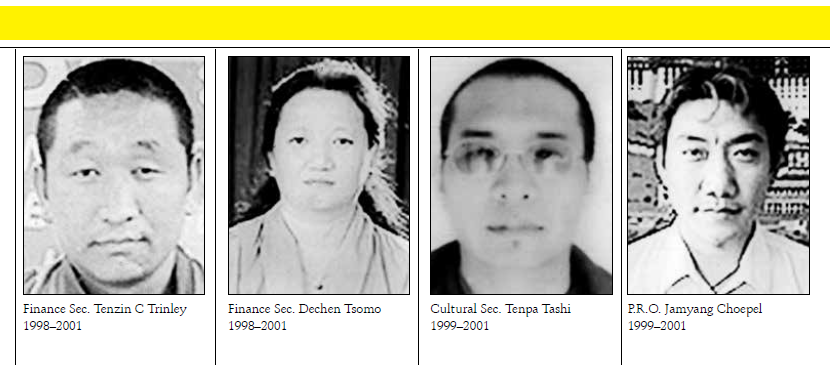 TSETAN NORBU (President 1995-98; 1998-2001) :

Graduated with Bachelor of Commerce from Tribuvan University Kathmandu, Nepal. Got Diploma in Social Leadership from St. Xavier University, Philippines. Also did training in Export and Marketing from Sian Productivity Organization in Japan. From 1980 to 1989, he served the Tibetan Research Office of Darjeeling. He edited the independent magazine 'Sambhota' published from Kathmandu. He served as the President of TYC chapter in Kathmandu and was member of Tibetan Freedom Movement and Tibetan Local Assembly in Nepal. During his tenure in the Centrex, he toured many countries as spokesman of TYC.
KARMA YESHI NAZHI (Vice President/ Editor-Tibetan Rangzen 1995-98; 1998-2001) :

Born in 1965, Gangtok. Did his graduation from Punjab University, Chandigarh and also obtained Bachelor of Education degree and diploma in language from the same university. He was an executive member of Chandigarh branch of TYC from 1987-88 and President of the Puruwala branch from 1992-95. He also served several years as President of the Tibetan Freedom Movement in Chandigarh and Puruwala. In 1995, he was elected as the President of Local Assembly of Sakya Tibetan Settlement in Puruwala, Himachal Pradesh. At present, he is a member of Tibetan Parliament-in-Exile (ATPD) and also heads the Voce of Tibet Radio Service based in Dharamsala.
PEMA LHUNDUP (Jt Secretary 1995-98; General Secretary 1998-2000; Ed Eng Rangzen 1995-2000) : Completed his schooling from Central School for Tibetans, Darjeeling in 1979. Joined Special Frontier Force compulsory training programmed and served there for two years. He played key role in the formation of regional chapter of TYC Nainital and became the founding General Secretary. He also held the post of assistant editor of the RTYC's annual journal "Exiled Spark". Professionally, he was a teacher and held the post of headmaster of the Central Tibetan Day School, Nainital from 1984-1995. Sadly, he died in 2000.
CHOEKYONG WANGCHUK (Sec Int'l Rlt 1995-98:Jt. Secy 1998-2000:Gen Sec /Ed Eng Rangzen 2000-01) :

Born in Kalimpong, he passed his senior Secondary School from SFF School in Herbertpur in 1990. He then joined for B.A in GCM, Chandigarh, Punjab University and obtained his graduation in 1993. He served as the President to Overseas Student Association (O.S.A) of Government College for men's in 1992 and also as the President of RTYC. Presently, he is working as the coordinator of India-Tibet Coordination Office (ITCO) of CTA in Delhi.
DOLMA CHOEPHEL (Organisational Secy 1998-2000; Jt. Secy 2000-2001; 2001-2004) :

An art student from GCG, Chandigarh, Punjab University, obtained her post-graduate diploma in Public Relations after completing her school from Lower TCV and Dalhousie. She was actively involved with TYC activities and held the post of Public Relations Officer of RTYC and TFM, Chandigarh. Served as the Executive secretary and as the Circulation Manager of the TYCs' Rangzen publication during her service at the TYC Centrex.
Ven. TENZIN C. THINLAY (Finance Secretary 1997-1998: 1998-2001) :

Did his schooling at TCV till the middle school and then joined the Namgyal Monastery. Kusho Thinley la, as mostly called by his friends, was a board member of Namgyal Monastery and had toured extensively to the west to organize exhibitions. He has served as the Director of Sangye Choeling Monastery at Shimla from 1991-1997 and concurrently also served as the Director of Old-aged Home at Sanjouli at Shimla.
DECHEN TSOMO (Finance Secretary 1998-2001; 2001-2004) :

She joined the Tibetan Handicraft Centre, Jawalakhel, Nepal after schooling from St. Mary's High School. She was the founding member of the Regional Tibetan Women's Association, Nepal and served as its executive members from 1984-1991 and 994-1997. She also served as a member of the Tibetan Freedom Movement, Nepal and had taken very active role in many TYC's activities. She is still working as sales incharge of the Tibetan Handicraft Centre since 1975.
PEMA GYATSO (Information Secretary 1998-2001) :

Completed his schooling from CST Mussoorie in 1981 and had his earlier education in Tibetan Boys Hostel, Dehradun and Tibetan Homes Foundation, Mussoorie respectively. He was the President of the Gangtok Dance Group form 1984-1986. He held various post of the Tibetan Youth Club, Gangtok since 1987. After serving as the General Secretary of TFM, Gangtok, he served as the President of RTYC. Presently, he is working at the office of the Planning Commission, Government of Sikkim.
Ven. TENPA TASHI (Cultural Secretary 1999-2001; 2001-2004; Editor Tib Rangzen 1999-2004) :

Born in Amdo province of Tibet. Studied Tibetan religious teachings and grammers from Yulung Monastery and Drakardrel County Monastery in Tibet. In 1987, he escaped into exile and remained in Drepung Gomang Monastery studying Tse-ma, Pharching and Uma till 1996. Appointed to the religious teacher in CST Darjeeling and served as the President of RTYC and Chairman of TYC Joint Action Committee of the North-eastern states of India. Introduced and edited a journal "Gyalkhai Kyareng" of RTYC. Presently, he is serving as a lecturer for religion and literature at TMAI.
JAMYANG CHOEPHEL (Public Relation Officer 1999-2001; Secy. Int'l Relations 2001-2004) :

Did schooling from CST, Mussoorie Modern School and Delhi Public School. Earned his B.A. degree from Delhi University. During his school and college days, he was hockey team captain and represented Delhi team in Kayak and Canoe held in Srinagar (J&K). While in college in Delhi, he held various post of RTYC and served as Sports Secretary (1994-1995), General Secretary (1995-1997) and President (19971998). He was closely associated with TYC before elected as Centrex.