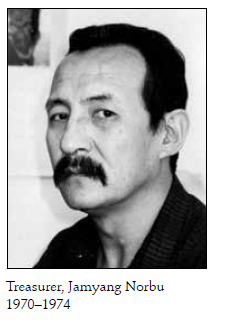 TENZIN GYECHE TETHONG (Founder; President 1970-74; Advisor 1974-76) :

An alumni of Mt. Hermon School, Darjeeling. He joined CTA since the early 60s and worked in different capacities, amongst others, administered TIPA, worked as Secretary at Council for Tibetan Education, was deputy Kalon at Information Office and headed Health Department from its inception. He also founded the Sheja magazine. Since 1976 he has served in the Office of HH the Dalai Lama – except during 1980- 84, when he was member of the Kashag, first as a Deputy Kalon and later as Kalon-as translator and later as Secretary to HH the Dalai Lama in which capacity he continues to work.
SONAM TOPGYAL (Founder; General Secretary 1970-74; Advisor 1974-76) :

From Chamdo in Kham, he did his studies at the CIHTS, Sarnath. He was appointed Chief Kalon for the Tibetan Government-in-exile. He had been working with CTA in various capacities since the earliest years, much of it at the Information Office (now DIIR) which he headed as Secretary. Before being elected to Kalon, he was the political secretary to Kashag. He also served as Cabinet Secretary once and helped found the Sheja magazine. He also helped draft the TYC constitution.
TENZIN NAMGYAL TETHONG (Founder; Asst. Secretary 1970-74) :

An alumni of Mt. Hermon School, Darjeeling, he forsook college to serve CTA and was among the first staff of CTA. He was one of the founding members and co-editor of Sheja managainze, and was also an editor of 'Tibetan Review" for a number of years, Representative of His Holiness the Dalai Lama at the Office of Tibet in New York (1973-1986), helped establish Tibet Fund, U.S. Tibet Commitee and many Tibetan Associations, and also established the International Campaign for Tibet (1987). He was elected to the Kashag in 1990 and also held charges of finance, Home and Information & International Relations at various times.
LODI GYARI GYALTSEN (Founder; Asst. Secy 1970-74; Vice President 1974-76; President 1976-77) : A

n alumni of Mt. Hermon School, Darjeeling. Now he is the special envoy of HH the Dalai Lama in US and also board member of International Campaign for Tibet, Washington DC. Prior to that he led the Information Office (now DIIR) for many years as Kalon. He served the Central Tibetan Administration in various other capacities also, as director of Research & Analysis Department and Chairman of the 7th ATPD. Helped launch and edit the Sheja magazine.
Prof. SAMDONG RINPOCHE (Vice President 1970-73) :

Had his earlier education at Drepung Monastery in Tibet and obtained Gyeshe Lharampa degree in exile. He served as Principal of CST Dalhousie before taking over the CIHTS, Sarnath as it Director where he spent many years taking it to the prominent status as a premier institution of higher Tibetan studies. Before being the first direct elected Kalon of Tibetan Government in exile, he was the Chairman of 11th and 12th ATPD.
JETSUN PEMA (Vice President 1970-74) :

Born in Lhasa in 1941. Did her schooling and college from Loreto Convent, Darjeeling and in England and Swiss. She took the Directorship of the Tibetan Children's Village School when it was a nursery in 1964. Now the Tibetan Children's Village has its branches across India. She was appointed as first woman Kalon in history in 1991 and served as Kalon for Education and Health but resigned in 1993 to return to Tibetan Children's Village where she continues to lead now as President.
JAMYANG NORBU (Treasurer 1970-74; Disciplinarian 1974-76; V. Pres. 80-82; Editor Rangzen) :

An alumni of St. Joseph School, Darjeeling. As Founder Director of Amnye Machen Institute, He publishes the "Mang-Tso" newspaper and many other journal and books. He is a well-known writer and commentator on Tibetan and Chinese affairs, and made many lecture tours abroad. He is author of several books, including "Horsemen in the Snow". He also served CTA, most notably as director of TIPA. Earlier he went to Mustang and joined the Tibetan guerilla there.