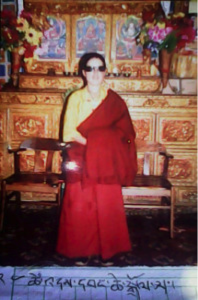 Name: Wangchen Dolma
Age: 31
Sex: Female
Status: Layperson
Date of Self-immolation: around 5 pm (local time) on June 11
Location: Near Nyatso Monastery in Tawu
Current whereabouts/wellbeing: Unknown
Wangchen Dolma 31 year-old nun believed to have suruved fiery protest but no further information on her present condition. She is currently believed to be in a hospital in Dartsedo after Chinese security personnel arrested her from the protest site.
It has also been reported that an unidentified Tibetan man, who tried to rescue Wangchen Dolma, was severely beaten and arrested by Chinese security personnel.
Following a major clampdown by Chinese authorities on all communication channels in the entire Tawu region, sparse details about Tuesday's protest is trickling out.
Dharamshala based Tibetan language news portal, Tibet Express identified the nun citing sources in exile as well as inside Tibet.
Wangchen Dolma set herself on fire at around 5 pm (local time) on June 11 outside the Nyatso Monastery in Tawu, where thousands of monks from all over Tibet were participating in a major religious gathering.
According to an eyewitness, a Tibetan man tried to put off the flames on Wangchen Dolma's body, shouting, "if we don't rescue the nun, she will fall into the hands of the Chinese."
"Within minutes of the self-immolation protest, Chinese security personnel arrived, extinguished the flames, and bundled the nun away in a police vehicle" the same source said. "The man who tried to save the nun was severely beaten by two Chinese security personnel and later arrested."
Whereabouts of the unidentified Tibetan man is not known.
Wangchen Dolma's monastery is located near Dakar Jangchup Choeling, the nunnery to which nun Palden Choetso, who self-immolated on November 3, 2011, belongs.
Wangchen Dolma is a native of Tawu. Further personal details, as well as information on the present situation at her monastery are not available.
Also, a picture currently under circulation, claiming to be of Wangchen Dolma, has not been confirmed by sources.
The exile Tibetan administration has repeatedly appealed to Tibetans not to take drastic actions, including self-immolation, while attributing the current crisis in Tibet to China's policies of "political and religious repression, economic marginalisation, social discrimination, cultural assimilation and environmental destruction in Tibet."
This week, Tibetan spiritual leader His Holiness the Dalai Lama expressed doubts over the effectiveness of the unprecedented wave of self-immolations while speaking to reporters in Sydney on Thursday.
"It's a sad thing that happens. Of course it's very very sad. In the meantime, I express I doubt how much effect (there is) from such drastic actions," the 77-year-old Tibetan leader was quoted as saying.